The Uni starts with the cube.
Many cubes hold books. Some hold activities like math games, tangrams, flash fiction, and chess. Some are in Spanish, and some are in Chinese. One cube always carries a first aid kit. The Uni Librarians mix and match the cubes depending on where we go.
Some special cubes are curated by others (institutions, educators, and individuals) who have a passion and depth of knowledge on a specific topic. These cubes are a permanent part of the Uni collection, traveling to different neighborhoods across the city.
Materials in the Uni are for browsing only and do not go home with our patrons. Donate books here. Learn how we came to choose the cube here.
Meet a few of our cubes:
---
New York Hall of Science: BOOKS FROM THE SCIENCE TECHNOLOGY LIBRARY
This new cube is a gem, donated by New York Hall of Science and filled with science-related books that will grab the attention of passersby. The Uni now has a new tool to get people on the street thinking about science. One of our favorite titles in the cube is the oversize book "Actual Size," which doesn't just tell you how big a gorilla hand or a giant squid eye can be, it shows you. Thank you to the NY Hall of Science for donating these books and for the work you do in Queens—we're proud to be taking you with us as we move around the city. And a special thanks to NY Hall of Science Librarian Rebecca Reitz, who not only chose perfect titles for our browsable collection but also took the time to cover them in protective sleeves so they'll last for years to come. You librarians out there really "get" the Uni, and we love that!
---
Museum of Chinese America: BOOKS ABOUT CHINESE IN AMERICA
The Museum of Chinese in America (MOCA) has donated a cube of wonderful books to the Uni collection, including the acclaimed graphic novel, American Born Chinese, exhibit catalogs, and picture books for children. MOCA has been telling stories of the many communities of Chinese America since its origins as the New York Chinatown History Project, founded by community and student activists in 1980.
---
Museum of Modern Art: BOOKS ON ART
Coinciding with the Uni's visit to the PS1 Dome at the Rockaways in April, 2013, the Museum of Modern Art curated and donated a cube of outstanding books that will engage kids and adults across NYC for years to come. MoMA's publications program has been an integral part of the Museum's mission since its founding in 1929. MoMA has published over 1,250 titles in twenty languages to date, showcasing the scholarship of the Museum's staff and associates, and serving as a valuable resource to scholars, students, and art lovers alike. And now, these books will travel to neighborhoods across the city. MoMA PS1 also donated several titles. Thanks MoMA!
---
The Louis Armstrong House Museum Cube:
LOUIS ARMSTRONG OF CORONA, QUEENS
The Uni generally runs without electricity, but we made a special exception for an exceptional New Yorker and Queens resident, Louis Armstrong. This special cube, our first with audio, was created in partnership with the Louis Armstrong House Museum. It includes books, photos, and music all donated by the museum to the Uni. This cube was debuted on Corona Plaza in July 2012, just steps from the Armstrongs' house. New York is home to some of the largest museums in the world, but some of our favorites are the smallest. House tours are given in person by a guide and are limited to about eight people at a time. If all 8 million New Yorkers take this beautiful and moving tour, it will take us some time to pass through, but let's do it! Thank you LAHM for what you do for the legacy of Louis Armstrong and New York.
---
The 826NYC Cube: WRITING BY YOUNG NEW YORKERS
Superheroes come in all shapes and sizes. 826NYC, home of Brooklyn Superhero Supply Co, has curated and donated a cube of books featuring young New York writers. The 826 donation includes several remarkable non-book items which challenged our Uni cataloging system in the best way, including a can of ANTIMATTER. Thank you 826 for your work to create a new generation of writers, and for showing us how the inspiration to read and write can come from a label on a can, as well as a published book.
---
Robert Berkman: STREET MATH INVESTIGATIONS
In 2012, we encountered a wonderful exhibit on Governors Island that evoked the street scenery of New York City and prompted you to solve puzzles with magnetized pickles. It also asked you to use your powers of spatial reasoning to connect appliances to water mains and electrical lines. The exhibit was the work of educator/public mathematician Robert Berkman, who, among other things, has a family math program called "Street Math." The exhibit was his first experiment with walk-up, self-guided learning in public space. We knew right away his work and mission were a great fit for the Uni.
Robert's math organization is called Better Living Through Mathematics. We're thrilled he agreed to re-create his mobile, street math exhibit for the Uni. We're hoping this also marks the beginning of many interesting collaborations with teachers and exhibit designers to create more hands-on, educational cubes for the Uni.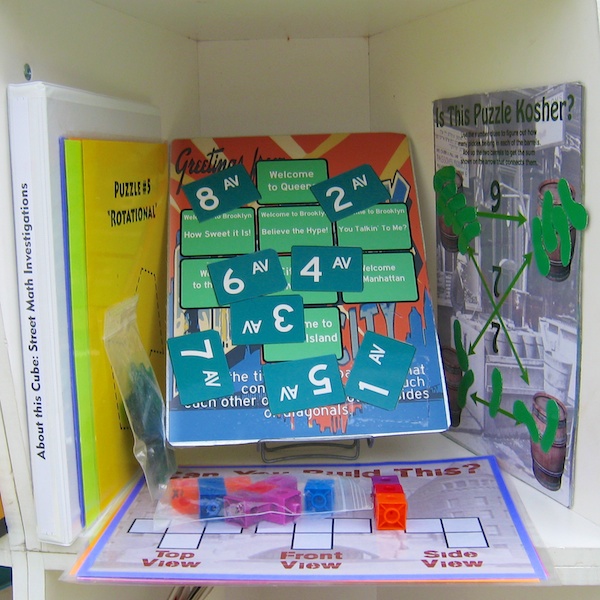 ---
New York Bound Books Cube: BOOKS ABOUT NEW YORK
We were honored to receive a donation of books from Barbara Cohen, owner of New York Bound Bookshop, a once-thriving NYC bookshop which is now a piece of New York history itself. The store was located in Rock Center and specialized in rare, out-of-print and new books, photographs, prints, and maps relating to New York. It was also a place where people with long-standing interest in New York and people with newfound interest would mingle. Learn more about the closing of the shop here. We're proud to have this piece of New York's soul in the Uni, and we're excited to see Barbara's books in the hands of New Yorkers once again. This is why we do the Uni.
---
Place in History and Furnace Press Cube: URBAN AND LANDSCAPE EXPLORATION
Furnace Press was co-founded in 2005 by two Brooklyn-based arts groups, Ars Subterranea and Place in History. Both groups focus on city architecture with a view towards the obscure and neglected: urban decay and abandonment, industrial ruins, disjointed neighborhoods. The Furnace Press cube is beautiful; it contains viewing plates that show New Yorkers like Frank "Red" Scollo, Longshoreman of Red Hook who once walked these streets, and moments in history that are all around us. Thank you Furnace Press for looking into the past and delving into corners of New York we sometimes forget to notice.
---
Embassy of Republic of Kazakhstan (Ambassador Erlan Idrissov): PICTURES OF KAZAKHSTAN
Ambassador Erlan Idrissov, of the Republic of Kazakhstan, made a wonderful donation of three, beautiful books on Kazakhstan. We were honored to accept these books and add them to the Uni's permanent collection. We brought them out for the first time on the streets of New York City in Corona, Queens, where we debuted a special cube that includes these books alongside a mini-globe marking where Kazakhstan is, in relation to New York City. As the books were removed from the shelves by our Uni patrons, and kids noted the location on the globe, many people asked, why Kazakhstan? Because in Kazakhstan, residents of the city of Almaty are sitting and reading in public right now, at another Uni! Ambassador Idrissov keeps a blog and you can follow the Almaty Uni at the US Consulate Almaty's Facebook page.
---
Various Donors: PICTURE BOOK CUBES
From the start, the Uni has embraced the picture book, and for good reason. These books work in public space. Our 2012 results show that picture books came off our shelves many times more frequently than other genres, and we're constantly expanding our collection. Here's a statement from Cynthia Yee, educator and former volunteer librarian in our 2009 Storefront Library about the educational value and importance of picture books:
In our modern misguided rush to show achievement, we wrongly assume that reading chapter books early is a sign of an advanced reader and so we push and encourage young children into children's chapter books earlier and earlier. As a result, children often think, as some adults do as well, that picture books are "baby books" and so skip an entire valuable genre of literature. Actually, picture books are essential to the development of an avid and skilled reader. Picture books often have a more advanced vocabulary than the chapter books purposely written with a "controlled vocabulary" for the young market. The illustrations in high quality picture books are often beautiful works of art, colorful, expressive, and tell a story that words cannot express by themselves. They can communicate complex ideas, support a pace that is quick and clever, and so inspire delight in children as well as the wise adult. Indeed, the experience of enjoying picture books read alone, read aloud, or shared together with children is to indulge in one of the greatest joys of a literary life. It is an experience to be encouraged and supported in our schools, libraries, homes, and communities.
---
Here's a slideshow of more cubes in the collection:
This SlideShowPro photo gallery requires the Flash Player plugin and a web browser with JavaScript enabled.